Pests can be a nuisance in any environment, but when they invade our homes and workplaces, they can pose a serious threat to our health. From spreading diseases to triggering allergies, pests can have a significant impact on our well-being if left unchecked. That's why it's essential to maintain a pest-free environment through proper pest control measures. In this blog post, we'll explore the relationship between health and pest control, and why it's crucial to keep pests at bay.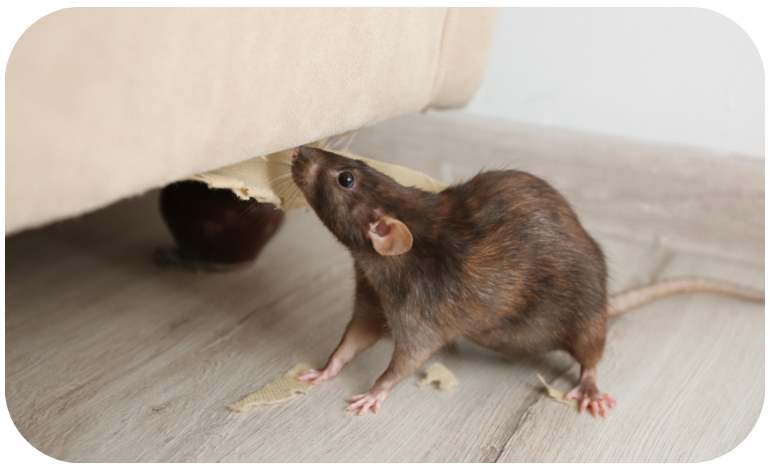 The Health Risks of Pests
Pests can carry a range of diseases and pose significant health risks to humans. For example, mosquitoes are known to spread diseases such as malaria, dengue fever, and Zika virus. Rodents like rats and mice can transmit diseases such as leptospirosis, salmonellosis, and hantavirus. Cockroaches are known to carry bacteria that can cause food poisoning, while ticks and fleas can transmit Lyme disease and typhus, respectively.
In addition to spreading diseases, pests can also trigger allergies and exacerbate existing health conditions. For example, cockroach and dust mite allergens are known to cause asthma and other respiratory issues. Rodents and their droppings can also trigger allergic reactions and cause asthma attacks. In some cases, exposure to pests can even lead to mental health issues like anxiety and depression.
The Importance of Pest Control
Given the serious health risks associated with pests, it's clear that effective pest control is essential. But what exactly does pest control entail, and why is it so important?
Pest control refers to the process of managing and eliminating pests in a given environment. This can involve a range of measures, from simple prevention strategies like sealing cracks and crevices to more involved methods like using pesticides and traps. The goal of pest control is to prevent pests from entering a space, eliminate any existing pests, and prevent future infestations.
The importance of pest control cannot be overstated. By keeping pests at bay, we can reduce the risk of disease transmission, prevent allergies and respiratory issues, and maintain a healthy living and working environment. Effective pest control also helps to protect property and prevent damage to buildings and infrastructure.
The Role of Integrated Pest Management
One approach to pest control that has gained popularity in recent years is integrated pest management (IPM). IPM is a holistic approach that focuses on preventing pest infestations through a combination of prevention strategies, monitoring, and targeted treatments. This approach is based on the principles of ecological and biological control, which aim to control pests using natural and non-toxic methods whenever possible.
The key components of IPM include:
Prevention: IPM begins with prevention measures such as sealing cracks and crevices, removing sources of food and water, and ensuring proper sanitation.

Monitoring: Regular monitoring is essential to detect any signs of pest activity and prevent infestations before they take hold.

Identification: Identifying the pest species is essential to determine the most effective treatment options.

Treatment: Treatment options can include physical controls such as traps and barriers, as well as chemical controls like pesticides. However, the goal of IPM is to use non-toxic and natural methods whenever possible.

Evaluation: Regular evaluation helps to determine the effectiveness of the pest control measures and identify any areas for improvement.
Benefits of IPM
IPM offers several benefits over traditional pest control methods. By focusing on prevention and non-toxic treatment options, IPM can help to reduce the amount of pesticides and other chemicals used in pest control. This can have a positive impact on the environment and reduce the risk of exposure to harmful chemicals.
In addition, IPM can help to improve the effectiveness of pest control measures. By using a variety of prevention and treatment methods, IPM can address pest infestations more effectively than relying solely on chemical treatments. This can help to prevent the development of pesticide-resistant pest populations and reduce the need for repeated treatments.
Moreover, IPM is a sustainable approach to pest control that can help to reduce costs in the long run. By preventing infestations before they occur and using non-toxic methods, IPM can help to minimize damage to property and reduce the need for costly repairs and treatments.
Tips for Maintaining a Pest-Free Environment
Whether you're a homeowner or a business owner, there are several steps you can take to maintain a pest-free environment. Here are some tips to keep in mind:
Seal cracks and crevices: Pests can enter a building through even the smallest cracks and crevices. Seal these openings with caulk or weatherstripping to prevent pests from getting in.

Remove sources of food and water: Pests are attracted to sources of food and water. Keep your space clean and free of crumbs and spills, and fix any leaky pipes or faucets.

Keep your space clean: Regular cleaning can help to prevent pest infestations by removing any potential food sources and hiding spots.

Store food properly: Keep food stored in airtight containers to prevent pests from getting in.

Monitor for signs of pest activity: Regularly inspect your space for signs of pest activity, such as droppings or gnaw marks.

Work with a pest control professional: A pest control professional can help to identify any potential pest issues and provide effective treatment options.
Conclusion
Maintaining a pest-free environment is essential for protecting our health and well-being. Pests can spread diseases, trigger allergies, and cause property damage if left unchecked. That's why it's crucial to implement effective pest control measures, whether through traditional methods or integrated pest management. By taking preventative measures, monitoring for signs of pest activity, and working with a professional, you can keep your space pest-free and maintain a healthy living or working environment.