Are you ready to get rid of those pesky rodents once and for all? At Heat Wave, we have the expertise and the tools to handle any rodent problem in Austin. We understand that rodents are a nuisance for many homeowners in Austin, Texas. These little critters are not only annoying, but they can also carry diseases and wreak havoc on your home's structure. But fear not, because we're here to help you become a rodent-punching pro.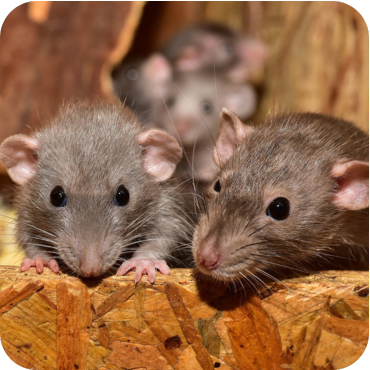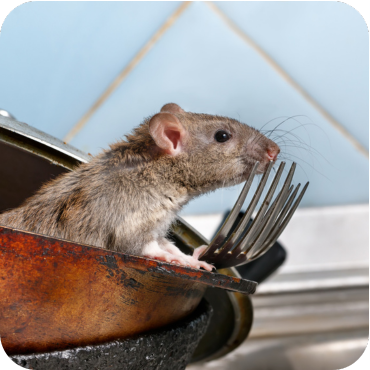 Rodents are a group of mammals that have two front teeth that never stop growing. To prevent their teeth from growing too long, rodents must constantly gnaw on objects. Some common types of rodents include mice, rats, squirrels, and chipmunks.
Austin, Texas, is home to several different types of rodents. The most common rodents found in the area include:
Norway Rats – Norway rats are the most common rats found in the United States. They are typically brown or gray in color and can grow up to 16 inches long, including their tail.

Roof Rats – Roof rats are smaller than Norway rats and are typically black in color. They are excellent climbers and can be found living in attics or high up in trees.

House Mice – House mice are small and brown and can squeeze through openings as small as a dime. They are typically found living in walls, attics, and basements.

Deer Mouse

– These mice are most common in rural, outdoor areas but are also found in Austin. Deer mice are about 6 2/3rd inches long and weigh 1/2oz to 1oz. They are almost exclusively nocturnal and tend to be burrowers. Their size allows them to easily enter homes to build nests.

Squirrels – Squirrels are common in Austin, Texas, and can cause damage to homes by chewing on electrical wires and insulation.
Frequently asked questions
How can I get rid of rodents?
If you already have a rodent infestation in your home or business, it's important to take immediate action to get rid of the pest. Here are some tips:
Set traps: There are a variety of traps available that can help you catch and kill rodents.
Use bait: Rodent bait can be an effective way to lure into traps.
Use repellents: Many natural and chemical repellents can be used to repel.
Hire a professional pest control company: They can use safe and effective methods to get rid of rodents and prevent future infestations.
Professional rodent control process
Heat Wave Pest Control has been treating rodents for more than 10 years. Getting rid of a rodent infestation is not an easy task, as it requires specialized knowledge of rodent behavior and habitat. DIY methods and traps may only catch a few rodents, leaving the rest of the infestation to continue. At Heat Wave, our professionals have the expertise to fully eliminate a rodent infestation and prevent future ones from occurring.
01
Rodents Inspection
Our team of trained professionals will start with a thorough inspection of your property to determine the extent of the rodent infestation and to identify the areas where the rodents are entering and exiting your home.
Based on the findings, the technician will develop a rodent control proposal for you to review.
02
Rodent control treatment
Our rodent control treatments use the safest methods available and are tailored to your specific situation. We use trapping, baiting and monitoring techniques to ensure that we've eliminated the population and to track their activity.
We also provide exclusion services to seal, caulk, plug, and secure gaps and cracks to keep rodents out of your structure.
03
Follow-up
At Heat Wave, we believe that our job isn't finished until you are completely satisfied. That's why we provide follow-up services to check the traps and bait boxes and make sure the rodent problem has been completely eradicated. We take pride in our work and are committed to providing exceptional service to our customers.
How can I prevent rodents?
Preventing rodents from entering and rodents inside your home is an essential part of pest and rodent control measures. Here are some tips:
Seal any openings – Make sure that any gaps or cracks around doors, windows, and the foundation of your home are sealed.
Keep your home clean – they are attracted to food and garbage, so keeping your home clean and free of clutter can help to prevent infestations.
Store food properly – Store food in airtight containers and keep them off the floor.
Remove potential nesting sites – Get rid of any clutter, such as piles of paper or cardboard, rodents could use that as nesting sites.
Trim trees and bushes – Rodents can use trees and bushes to gain access to your home, so make sure to trim them back to keep them away from your home.
Regularly inspect your home – Regularly check your home for signs of rodent activity, such as droppings or gnaw marks, so that you can take action quickly if needed.
By following these tips, you can help to prevent rodents from entering your home and keep your pet food family safe from potential health risks associated with rodent infestations.
Contact a pest control company
What to look for in a rodent pest control company?
When it comes to choosing a rodent pest control company in Austin, Texas, there are a few key things to look for:
Experience and Expertise Look for a company that has years of experience in the industry and has expertise in handling rodent infestations. A good way to gauge their expertise is by checking if they have certified technicians who have undergone rigorous training.
Customized Treatment Plans – Every rodent infestation is unique, and a good company will customize its treatment plan to your specific situation. Avoid companies that offer a one-size-fits-all solution.
Humane and Environmentally Friendly Practices – A reputable pest control company will use humane and environmentally friendly practices to remove rodents from your home. They should also be willing to provide information on the products they use and how they affect the environment.
Good Reputation – Check online reviews and ask for references from past clients to gauge the company's reputation.
Licensing and Insurance – Make sure the company is licensed and insured to protect yourself and your property.
Here are some additional resources to help you learn more about rodent pest and disease control, and prevention in Austin, Texas:
The City of Austin has a comprehensive guide to rodent control that includes information on prevention and control methods.
By following these guidelines and utilizing the resources available to you, you can find a reputable, rodent removal and pest control company in Austin, Texas, and keep your home rodent-free.
How a rodent control company can help?
Rodent infestations can cause significant damage to your home's structure and pose a threat to your family's health. Fortunately, Heat Wave rodent pest control company can help you identify and control a rodent infestation quickly and effectively. 
A licensed and experienced pest control company can help you identify and move dead rodent, control the infestation, and prevent infestations from occurring. Contact a pest control professional at Heat Wave today for a consultation or inspection to protect your home and family.